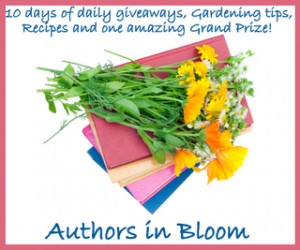 April 7th – April 16th 2014
10 Days of Giveaways-Gardening Tips-Recipes-and more!
Plus a GRAND PRIZE you'll be digging to win!
How about a Kindle or Nook anyone? What about a $25 gift card to buy books on that brand new ereader?? Plus a 2nd $25 gift card winner, as well as TONS of individual blog hop prizes!)
Hello blog hoppers!
I don't have a recipe, or a gardening tip, but I'd like to share with you a brand new fruit I discovered. Have you ever heard of a
Cucamelon
, or the
Mouse Melon
? I hadn't until last fall. Once I checked them out, I just had to order some seeds so I could give them a try.
According to the
Underwood Gardens, Terrior Seeds, LLC website
, a Cucamelon is a tiny, watermelon-looking fruit that is crisp, crunchy, and reminiscent of a cucumber, with a hint of tartness. They can be tossed in a salad, pickled, or eaten right off the vines. You can read reviews from satisfied customers as well as order from Underwood Gardens, and for a great blog post on the fruit, check out
homegrown-revolution.co.uk
.
On the back of my seed packet it says:
80 days, 5' vines productive and attractive. Mulch thickly and water well in dry weather. Plant near fence or with trellis. Pick fruits often to encourage growth of more flowers and fruits.
Now...once your gardening is done, you're going to want to relax with a great book, so I suggest you check out the newly expanded
COLORADO TRUST SERIES
.
Trust makes all the difference when love and danger collide.
Evidence of Trust
, Book 1,
brand new release AVAILABLE NOW
Trust by Design, Book 2, brand new release coming Spring 2014
Trust in the Lawe, Book 3, re-release coming Spring 2014
Shattered Trust, Book 4, re-release coming Spring 2014
Trust by Design, Book 5, re-release coming Spring 2014
(previously titled Shadowed Trust)
Having grown up under the excessive expectations of her CEO father, Brittany Lucas is as resistant to authority as the mustang she's training for her boss. It's a fault that lands her in more danger than she bargains for while camping in the back-country of the Rocky Mountain National Park.
Ranger Joel Morgan is used to having the upper hand in all his cases—until he runs into the headstrong blond while investigating disturbing incidents of poaching in the park. Brittany's imprudent lie of omission awakens ghosts in his past, making the sizzling attraction between them unwelcome. As he searches for evidence he can trust her, the monster mutilating wildlife turns his sights on Brittany, and Joel discovers he'll do whatever it takes to protect her—even give his own life.
Britt stewed in the saddle as her stallion picked his way along the trail. Mark had called a half-hour ago, claiming he needed Mitch back at the ranch. He hadn't given a specific reason, and the moment she'd heard Joel was riding in to be her new safety buddy, she figured there was more going on than he would say.
Or could say.
Mitch's initial frown had morphed into an emotionless mask, so different from his usual carefree attitude. He hadn't questioned the request, or even commented when she tried to speculate about the change of plans. With a grim "Good luck," he'd turned his mount back toward the trailhead and left her wondering what the heck was going on.
She'd slowed Paelo's stride, but sure as hell wasn't going to stop and twiddle her thumbs while waiting for Mr. Power-trip Ranger to catch up. She was tired of him issuing orders and ruining her day every time she turned around.
With the sun warming her back, she tried to enjoy the scenery while she could. Lord knew once he appeared she wouldn't have a moment's peace for the rest of the trip. In the past week, the new leaves on the trees had darkened to a deeper shade of green, their thick foliage shading the trail so much in places the snow from a week ago still hadn't completely melted. She knew the terrain well, had each landmark etched in her mind. The hands of time and Mother Nature changed something about them every year and she looked forward to cataloguing the alterations each spring.
Her gaze scanned the trail ahead and the sight of hoof prints in the snow made her draw back on the reins. The tracks didn't appear fresh, maybe a few days old judging by how they disappeared wherever the sun had melted the snow. She dismounted and gave Paelo a soft command.
Inspecting the bare ground, she saw no sign of passage in the moist soil, not even a slight indent. She'd guess the rider had come through sometime after the storm a week ago because there hadn't been any precipitation since then.
This guy won't think twice if he catches you alone.
Joel's ominous warning from the meeting sent a tingle of uneasiness along her spine. She rose to her feet, shifting her gaze from tree to tree, studying the shadows as she imagined someone out there, watching her.
A sudden rustle from behind made her jump and spin around. Paelo stared back at her as he chewed a small branch loaded with green leaves. The pounding of her heart eased.
"Oh, this is ridiculous," she muttered. The tracks were obviously old, and whoever it had been was long gone by now.
Still, she decided it might not be a bad idea to wait after all. She backed Paelo up so they wouldn't disturb any more of the tracks and found a large boulder alongside the trail where she could sit.
Quite a bit later than she expected, Joel rode up, his face cast in shadow from the low-sitting brim of his Stetson. She stood as he dismounted before facing her with a scowl.
"I specifically instructed you to wait."
Irritation flared even as she wondered how he knew she hadn't. Then it dawned on her, Paelo had left behind his own set of single tracks. Shrugging, she retorted, "You caught up, didn't you?"
His jaw tightened and his fists clenched at his sides. Britt stood her ground despite the fact her stomach was doing that damn little flippy thing it did whenever he was near. She moistened suddenly dry lips, and his attention flicked down.
Heat flared at the memory of his mouth on hers. She'd re-imagined both kisses way too many times over the past couple days.
"I—" Her voice broke. She cleared her throat and tried again. "I found some tracks."
He finally took a small step back and she moved past to direct him to the spot. As he squatted for a better look, a reassuring thought occurred to her. "They're probably from a ranger, but I figured you'd want to look at them."
He rose back to his full height. "Stay here. I'm going to see if I can pick up the trail further on."
She automatically took a step after him, and he whirled so fast she gasped.
Taking hold of her shoulders, he backed her up until the heels of her boots came up against the boulder she'd been sitting on. "Damn it, Brittany, I said stay here."
"I was just going to—"
With a low growl, he pressed her shoulders until she sat. She leaned back as he planted a hand on either side of her. "This is precisely why I told you to wait. Any evidence up to this point you've trampled, now let me see what I can salvage of the rest of it without you getting in the way. Move off this rock and I'm going to take you straight back down this mountain—trail be damned."
Grab your copy now and keep reading:
And finally, the part you've been waiting for...a chance to win my blog hop prize--$15 gift card. All you have to do is leave a comment answering my next question, and then enter via the Rafflecopter.
QUESTION/s:
If you've tried the Cucamelon, did you like it? If not, does it sound like something you'd like to try?
a Rafflecopter giveaway
For more info on the Blog Hop GRAND PRIZE, check out the

AUTHORS IN BLOOM BLOG HOP

page. **To be eligible for the Grand Prize, you must visit each and every author on the hop and leave a comment on their blog.